HALF-YEAR REPORT 2021
Dear Shareholders,
Although the first six months of 2021 proved to be challenging, we are pleased to report on our successful business performance in the first half of the year. Feintool generated sales of CHF 303 million in the reporting period, partly driven by the recovery of the automotive industry. Thanks to the high level of throughput at the plants and their increased cost-effectiveness, the operating (EBIT) margin stood at 6.3 percent. After taking one-off expenses and outputs into account, Feintool generated an encouraging EBIT margin of 7.1 percent as of June 30, 2021.
Back on track for growth
Following sharp declines in the wake of COVID-19, the market has recovered significantly in recent months. The revitalized market environment offered us a solid foundation upon which to operate, and parts sales increased in all of our regions. All relevant markets in which Feintool is acting recorded double-digit year-over-year growth. New vehicle registrations in Europe and Asia grew by around 27 percent each, while in the United States, the increase stood at 29 percent.
Our strong performance reflected both the more stable market environment and our internal improvement measures. These include standardizing, developing, and digitizing technical production processes. Furthermore, insourcing of processes such as tempering as well as expanding the value chain through capital expenditures on machining equipment. Among other actions, this was a contribution to position the company efficiently and cost-consciously. We also recorded brisk project activity, including in the area of electrolamination stacks for automotive main drives, as well as an encouraging high number of new nominations in the area of fineblanking and forming technologies.
Transformation through electrification
The transformation of the automotive industry continues unabated. The number of electrified vehicles on the road continues to grow worldwide. Feintool is playing an active role in the shift towards the electrification of mobility with a view to drive concepts. As an experienced and reliable supplier, we aim to support OEMs with our key technologies. Feintool knows how to apply its innovative capabilities to the challenges and demands of the future and is investing heavily in the technologies that deliver performance and safety in electric vehicles – whether in the main drive or in the peripherals.
However, the pace of change differs from region to region. While Europe is moving forward rapidly, driven primarily by political measures, the transformation in Asia and the U.S. might be slower. In terms of the timeline, according to the EU Commission, all new cars should be emission-free by 2035. Even so, according to the U.S. government, half of all new cars sold in the U.S. are said to be electric from 2030 onwards. China is also promoting electrification, but remains open to new technologies. During this evolutionary process, hybrid technology will serve to build a bridge between the combustion engines of today and the all-electric future. Feintool has recorded a growing number of orders in this area over recent years, which gives us an excellent starting position from which to tackle the changes that lie ahead.
System Parts segment
Compared to the same period in the previous year, the parts manufacturing segment was able to increase third-party sales significantly by CHF 88 million to CHF 283 million. This equates to an increase of 45 percent. As a result, System Parts accounts for over 93 percent of the Feintool Group's total turnover. Despite major challenges such as a lack of steel availability, the resulting high steel prices, and production interruptions due to the shortage of semiconductors, the segment was able to secure major nominations in the fineblanking and forming units, pressing ahead with expansions as planned. For example, the German plant in Jessen and the Chinese location in Taicang have both expanded their expertise in the field of electrolamination. We expect to start production of these parts in China by the end of the year. The two awards Feintool has received are testimony to the effectiveness of its long-term process optimization efforts: The System Parts Europe business unit was presented with the Special Award in the category "Business Unit Transformation – Learning Organization" by a German jury of experts. The jury evaluated specific characteristics of efficient lean management methods and audited them with respect to their lasting success.
Furthermore, a major Japanese customer presented Feintool Japan with a "cost-down" award, which is given to companies that optimize costs internally on a lasting basis while at the same time increasing profitability. Thanks to long-standing business relationships built on a foundation of mutual trust, Feintool is now also supplying Japanese customers' transplant operations.
Fineblanking Technology segment
In the capital goods business, earnings reflected customers' continued restraint. The number of orders received failed to meet expectations. Nevertheless, the segment was able to sell more systems from its latest generation of presses, such as the most powerful version with a press force of 1 100 metric tons. Feintool's latest press series "FB one" offers customers improved productivity and sustainability elements, among other benefits.
Customer service activities in particular suffered from the international travel restrictions, with various service calls and jobs setting presses into operation, especially in Asia, having to be postponed. In the spare parts and overhaul business, we saw the number of orders received pick up again as countries began relaxing restrictions.
In technology development, we continued to press ahead with our efforts in the field of electric mobility. A team composed of members from all business areas is hard at work on the industrialization of metallic bipolar plates. The production of metallic bipolar plates for fuel cells using the Feinforming process is attracting considerable interest in the market, and we have since received further prototyping orders. In order to consolidate and expand our role as a technology leader, we are systematically and specifically investing in the further development of our presses and tools as well as in the expansion of our services and customer support.
The semiconductor industry: caught on the wrong foot
The recovering economy and the resulting increase in overall demand in the automotive industry have also had negative aspects, however. Problems in the global supply chains, particularly in the steel and semiconductor industries, have become a major source of uncertainty for the coming reporting period. Production and transport capacities that were scaled back due to the pandemic first have to be ramped up again and brought in line with today's stronger demand situation.
Companies currently have to wait an extremely long time for the delivery of chips. This has already prevented automakers from manufacturing as many cars as they had hoped in the first half of the year. Over the coming months, they will be forced to deal with scenarios in which they may have to scale back production or even temporarily shut down entire factories. Feintool does not expect the semiconductor supply situation to improve in the short term. This means that the company will only be able to plan production over the coming months to an extremely limited extent.
Steel shortage threatens recovery
The situation is similar when it comes to our most important raw material – steel. In this case as well, we need to refer to the situation as a procurement crisis, and it is driving prices to unprecedented heights. Year over year, the cost of steel in the United States has massively increased and has now almost doubled. Supply bottlenecks and increases in the price of steel are jeopardizing the recovery process, which had gotten off to a good start at suppliers and auto manufacturers. Feintool expects the strained situation in the steel market to continue into the second half of the year as well.
Sustainable growth
The Feintool Group made significant progress in its sustainable development activities in 2020. For example, the company was able to increase the share of renewable energy in its electricity mix by more than 12 percent year over year to 30 percent. In addition, all of our plants in Germany have been sourcing exclusively green electricity since the beginning of 2021. We published facts and figures related to our sustainability strategy in our sustainability report for 2020.
Climate change is necessitating a transformation when it comes to products, production, and society as a whole. We want to actively drive these change processes – with high-performance sheet metal technology for the mobility of tomorrow, with globally attractive jobs, and by continuously reducing our environmental footprint until we achieve climate neutrality. Now that we have published our second sustainability report – embedded into our Strategy 2030 – we are taking the next step, working on a roadmap with specific environmental and talent development targets.
Outlook
Thanks to its broad technological base, attractive projects, targeted investments in the future, and, highly trained and motivated employees, Feintool can look ahead to the coming six months and beyond with confidence. Continuing to expand our activities in the field of electric mobility and further reducing our dependence on the conventional drivetrain will ensure that our transformation is a complete success. We are very well positioned to continue to assert our technological leadership both tomorrow and well into the future.
Guidance
The recovery seen in the first half of 2021 is expected to continue into the second half of the year. At the same time, however, uncertainties in the global supply chains will continue to persist. The semiconductor and steel shortages relevant to the automotive industry and the rising raw-material prices are particularly weighing on our industry. Barring unforeseen circumstances, including a renewed outbreak of COVID-19, Feintool expects sales of CHF 580 - 600 million and an EBIT margin before one-off effects of around 6 percent for the year 2021.
We would like to thank our shareholders as well as our customers and suppliers for the trust and confidence they have placed in us. This is what motivates us to deliver best performance and embrace change with enthusiasm every single day. Our employees deserve special thanks for their strong commitment and flexibility.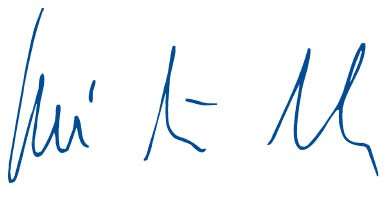 Alexander von Witzleben
Chairman of the Board of Directors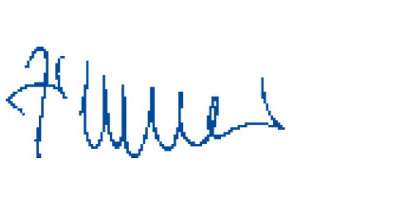 Knut Zimmer
Chief Executive Officer