ANNUAL REPORT 2021
Human Resources
Expanding horizons also applies to Feintool's most important resource – its employees. Feintool conducts a number of activities to ensure its employees develop both personally and professionally. In 2021, Feintool implemented and launched key measures and projects in order to continue positioning the company as a strong employer brand.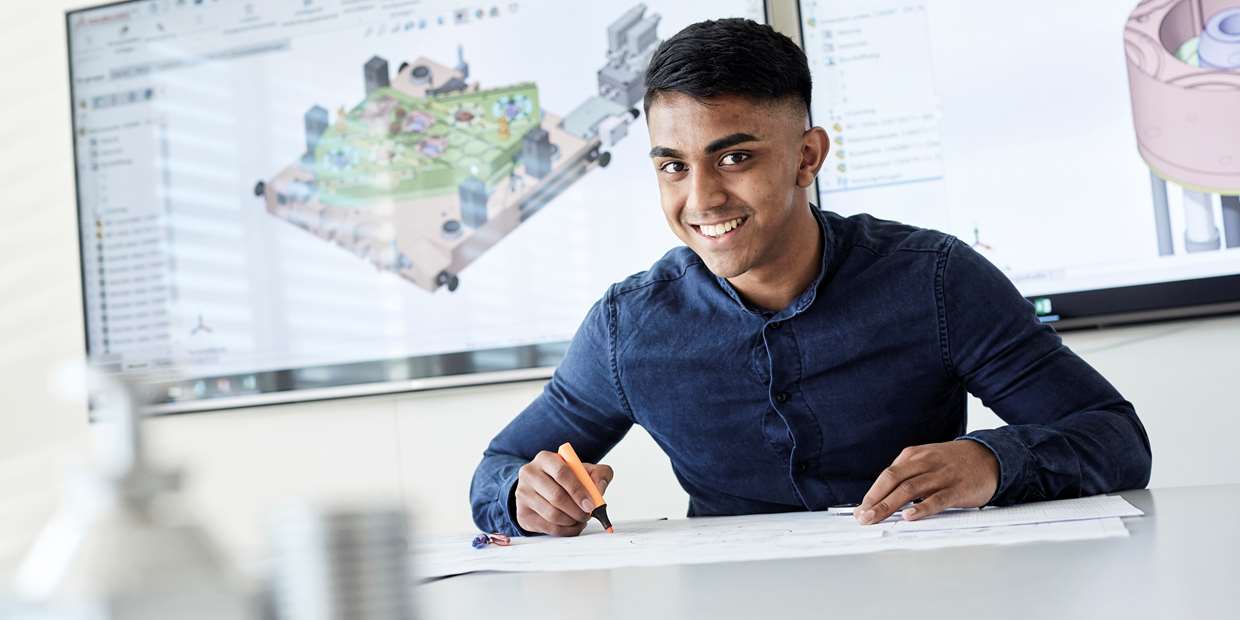 A top employer
Our company's success is largely thanks to our highly competent and motivated employees. The importance of their interest and long-term loyalty to Feintool cannot be overstated in view of a steadily dwindling supply of skilled workers. As competition for suitable employees intensifies, it is more important than ever for Feintool to be perceived as an attractive employer. For this reason, we initiated various measures in 2021 to further increase the satisfaction and dedication of our employees and all those who have yet to join our company.
Based on the employee survey conducted in the spring, a group of 155 employee volunteers set up teams to discuss and draw up specific measures for their sites. We were extremely pleased with the fact that 72 percent of employees participated in the survey, which on the one hand ensures that there is broad support for the upcoming implementation of the measures, and on the other hand guarantees that solutions will be found that meet the objectives. At the Tianjin plant in China, for example, a team is working to improve the advanced training situation. New hands-on internal and external vocational and advanced training courses, especially for production employees, will be added to the portfolio in the first quarter of the coming year.
Furthermore, a global talent management program was conceived to support employees in their professional development at Feintool. The objectives include improved employee satisfaction, a higher degree of innovation, and a lasting increase in productivity thanks to motivated employees. The talent program consists of a core program and individual training aimed at improving professional expertise. The core program guides and supports participants along various modules on topics such as project work, business leadership, or change management.
Thanks to a variety of different measures to combat the spread of the coronavirus at our plants that are individually tailored to each region, we have been able to prevent outbreaks of the virus at our plants and thus protect the health of our employees.
Various regional digitization projects in the area of HR are helping to further reduce administrative processes and thus free up more time for employee support. For example, a standardized payroll system – ADP – was introduced at all German sites. The system combines payroll, HR administration and time management processes and simplifies them to a great extent.
In terms of training, Feintool relies on the dual system - consisting of classroom training at an external institution and practical experience in Feintool plants. In Switzerland, 8 apprentices successfully completed their training in 2021 in the occupations of automation technician, polymachinist, design engineer, commercial clerk and IT specialist. In the German plants, a total of 65 young professionals were in training in the year under review, 15 of whom successfully completed their apprenticeships (machine and plant operator, electronics technician, toolmaker, cutting machine operator and industrial clerk). For the past four years, Feintool has been training press and grinding machine operators and toolmakers together with the Chien-Shiung Institute of Technology in Taicang, China. At its American sites, Feintool also works closely with local technical schools to train machinists. Across the Group, 89 young people were undergoing training.