ANNUAL REPORT 2019
Dear Shareholders,
As already reported in the half-yearly report, the negative market trend in our industry that has been apparent since the beginning of the financial year also led to a sales decline at Feintool (-9.2% organically, in local currency). After ten years of global growth since the financial crisis, a slowdown has now occurred that has been accompanied by additional global trends in our industry. Over the long term, however, the automotive market – which is of vital importance to Feintool and as such, to personal mobility – will remain a global growth market. And Feintool, with its market-driven solutions, has a global presence and is well-positioned strategically in its key regions.
2019 market trends
The global economy and the global automotive market, with all of its applications in the vehicle including safety, seats, and the drivetrain, performed differently in the various regions, moving in different directions due to changing trade flows and regulatory environmental requirements. In a global automotive market that is weaker overall as a result of economic influences, premium vehicles, cars with automatic transmissions, vehicles with all-wheel drive, and hybrid and battery electric vehicles generally performed well, however, exhibiting significant growth in some cases. Although the total number of new vehicle registrations in the United States fell, the segments relevant to Feintool continued to grow. The general decline in new vehicle registrations therefore had little negative impact on Feintool in the United States. In Europe, the number of new registrations remained roughly stable compared to the previous year. In China, the market for passenger cars (i.e. new vehicle registrations) recorded a significant overall decline. Nevertheless, we were able to achieve satisfactory results in individual vehicle segments, in particular with parts for automatic transmissions. As a result, in China we also faced the challenge of balancing a general weakness in demand with the rapid expansion of capacities for formed parts, which are also used in automated transmissions. In Japan, our business, which is primarily focused on the seat and safety segments, continued to be profitable and remained stable year over year.
In the capital goods sector, we have seen that customers in every region are extremely reluctant to make capital expenditures due to the considerable uncertainties that exist. The global challenges facing the automotive industry described above are ultimately already having a considerable impact on the early-cycle mechanical and systems engineering sector, where significantly fewer orders are being placed. Nevertheless, Feintool is generally well positioned as the market leader and is poised to benefit over the coming years from significant research efforts in new applications.
Maintaining competitiveness
The order situation for our electrolamination stamping technology, which we acquired in 2018, is developing well. Here, the expertise we acquired enabled us to secure a global preproduction order from a well-known OEM for components used in the gear motor of a battery electric vehicle (BEV). In addition, advancements to the technology, which itself is new to Feintool, have been made in preparation for the expansion into China, and as a result, the production of in-tool lamination core stack components is expected to begin there in 2020. In our other technologies, forming and fineblanking, we have seen a considerable upturn in the number of inquiries for transmission parts received by our plants in all of the Feintool Group's regions from leading manufacturers in Europe, the United States, and also increasingly Japan. This leaves us feeling optimistic about the current and upcoming financial years.
Research and development progress
In the capital goods segment, intensive field tests have confirmed the expected benefits of the new FB one press generation. In 2020, Feintool will make the newly designed press available on the market in a variety of different capacities. During the reporting period, Feintool delivered its fiftieth press from the successful XFT 2500speed series to a customer. As an industry leader, Feintool works closely with the world's leading universities and colleges. In 2019, the company continued to work on various projects in cooperation with ETH Zurich, RWTH Aachen University's Laboratory for Machine Tools and Production Engineering (WZL), and the University of Shanghai.
Feintool sees great potential in bipolar plates for fuel cell production. The company made significant progress in this regard, has developed a complete manufacturing concept, and is now focusing on collaborating with potential development partners.
Internal changes
Only those who know their motivation and the role they play at Feintool can make an important contribution to the company's success. With this in mind, we refined and realigned our mission statement for all employees last year. In it, we now focus on our strengths, how we apply them, and the benefits they offer customers, stakeholders, and the environment. In order to underscore the latter aspect, Feintool will begin issuing a thorough and clearly organized sustainability report. We began the concept phase at the end of 2019, and publication of the first Feintool Sustainability Report, which will be based on the internationally recognized GRI standard, is planned for the first half of 2020.
Systematically pursuing our strategy
We have been systematically pursuing the strategy defined for Feintool since 2010. The year 2019 was challenging, but it has shown that we are on the right track. We are preparing for a recovery in a global automotive market that will be attractive for Feintool in the coming decade. We will continue to consolidate our position in the European, North American, and Asian markets with respect to fineblanking, forming, and electrolamination stamping technologies. Thanks to past capital expenditures and significant research efforts in all of our regions, we are systematically improving our market position and the profitability of our individual plants as a highly competitive company.
Outlook and thanks
The economic and political uncertainties will continue during the 2020 financial year, yet will have a different impact in different regions, which is why we expect the global market situation to remain complex. We are currently unable to assess the effects of the coronavirus on China and global trade flows. We have seen an encouraging increase in the number of inquiries for future orders in the high-volume parts business in recent months, however, whereas we expect the capital goods business to remain difficult due to the existing uncertainties and the associated reluctance to invest. Feintool expects sales in 2020 to match the previous year's level, but profitability is expected to improve as a result of measures introduced during the reporting year.
We would like to thank our customers, suppliers, and shareholders. Your confidence in Feintool drives us to constantly perform at our best – an achievement that would not be possible without dedicated employees. We therefore also owe them our sincere thanks.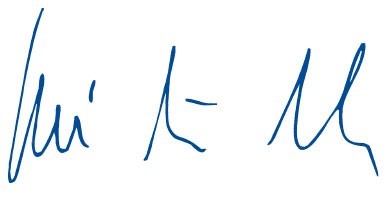 Alexander von Witzleben
Chairman of the Board of Directors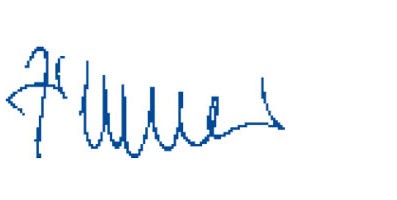 Knut Zimmer
CEO