ANNUAL REPORT 2018

Dear Shareholders,
Feintool closed the 2018 financial year with a pleasing result and continued the growth trend of previous years. Sales in the Feintool Group increased 11.0 % to CHF 679.6 million. The Group result rose slightly to CHF 30.0 million, with an equity ratio of 45.5 %. We would like our shareholders to share in this success, which is why the Board of Directors will propose a dividend of CHF 2.00 per share to the General Meeting.
Complex market environment marred by political uncertainties
Growth in the automotive industry temporarily came to a standstill in 2018. According to market researchers at LMC Automotive, global production of passenger cars and light commercial vehicles fell -0.5 % in the year as a whole compared to 2017. The European market performed best, recording slight growth of +0.2 %. By contrast, Asia and North America experienced declines of -1.1 % and -0.2 %, respectively.
However, Feintool was largely able to withstand this trend: The System Parts segment, which supplies components to the automotive industry, grew +7.2 %. This was driven by continued good sales of SUVs, premium vehicles, automatic transmission and all-wheel drive cars as well as hybrid and, most recently, battery-powered electric vehicles. The System Parts segment recorded the largest growth in Europe (+8.3 %), followed by North America (+6.1 %) and Asia (+5.8 %). Within the automotive industry – which was weaker in the financial year 2018 – Feintool benefited from the fact that, the segment mainly supplied the vehicle types that recorded significant (in some cases double-digit) growth. Since the trend towards SUVs, premium vehicles (especially in the emerging markets), alternative drive systems and autonomous vehicles is likely to continue in the coming years, a further increase in demand for Feintool products is expected.
For 2019, LMC Automotive is forecasting global market growth for the automotive industry of +1.0 % compared to 2018, despite the ongoing difficult market environment. The trade dispute between the USA and China, global trade policy in general, the upcoming Brexit and stricter CO2 targets make forecasts difficult. The first automobile manufacturers have already begun to relocate their production from the US to China – the effects of this development on the industry will become apparent in the course of the year. As end customer needs continue to develop in line with the trends already mentioned, Feintool expects business growth to continue in 2019, despite possible political uncertainties.
Fineblanking Technology expands its technology leadership
Business with fineblanking presses and tools developed very positively and once again exceeded the previous year's result. The new FB one hydraulic press generation launched in 2018 is part of a consolidation concept that makes fineblanking even more energy-efficient, connectable, reliable, cost-effective and powerful. The high demand shows that the high energy and resource efficiency of the FB one fits very well with existing and future customer requirements. In order to strengthen and further expand our market leadership, the product and service areas were radically modernized. Thanks to optimized processes and numerous innovations, the Fineblanking Technology segment is perfectly positioned and – thanks to the orders received to date – expects to develop very well in 2019 as well.
Investments in increasing market shares
Business with the newly integrated electro sheet metal stamping technology also developed encouragingly. Due to the steadily rising demand for efficient electric motors, especially in the field of mobility, the investment in the acquisition of Stanz- und Laser Technik Jessen GmbH has proven to be the right move. The integration into the Feintool Group was completed towards the end of 2018. Feintool is thus expanding its technological portfolio to include electro sheet metal stamping expertise. In combination with the fineblanking and forming technologies, the company is very well positioned and prepared to gain further market shares. After completing the first electro sheet metal stamping orders in Europe in 2019, the technology will subsequently be rolled out in Asia and North America to supply the growth market of electromobility worldwide. Feintool is also benefiting from increasing demand for electric motors beyond the automotive industry, for example in industrial applications (assembly robots) or in the energy sector (actuators for wind turbines).
Long-term strategy proves its worth
Feintool owes its overall positive development in a challenging environment to a long-term strategy that we have been consistently implementing since 2010. Our focus is on fineblanking, forming and now also electro sheet metal stamping technologies, specifically in the European, North American and Asian markets. All our activities serve to strengthen and expand our position in these markets. In 2018, we invested around CHF 100 million, including in the fineblanking operation in Most, Czech Republic. In the reporting period, the plant was equipped with production facilities and a state-of-the-art tool-room. We also invested in the expansion of the forming plant in Tianjin, China, and the fineblanking plant in Oelsnitz, Germany. The well-filled order books show that this is the right approach. Feintool is better than ever in a position to fulfill the high demand for its products at established locations worldwide.
Outlook and thanks
Feintool expects the automotive market to grow in the medium and long term. Due to economic and political uncertainties, there is the possibility of a short-term drop in sales in individual markets. In this context, Feintool expects sales of between CHF 690 and 730 million in 2019 and a slightly higher EBIT than in financial year 2018.
We would like to thank our customers, suppliers and shareholders, whose trust strengthens our commitment to "Expanding Horizons" on a daily basis. This is made possible above all by our dedicated employees, who also deserve our sincere thanks.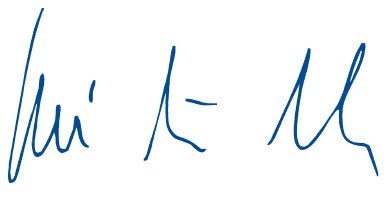 Alexander von Witzleben
Chairman of the Board of Directors
Knut Zimmer
CEO