ANNUAL REPORT 2017

Dear Shareholders, dear sir or madam,
We are pleased to be able to report good news again this year: Feintool was able to increase sales and profit again in 2017. We owe this success to our long-term strategy and a good market environment.
Sales of the Feintool Group increased year on year by 10.9 percent to CHF 612.3 million. Adjusted for currency effects and excluding the acquisition effect, this corresponds to organic growth of 8.1 per cent. The Group result – excluding the special effects from the previous year – rose slightly to CHF 27.7 million. The equity ratio amounted to 42.7 percent. We would like to share this success with our shareholders, which is why the Board of Directors will propose a dividend of CHF 2.00 per share at the General Meeting.
Good news from the segments
The System Parts segment – the division in which we manufacture fineblanking and forming parts for industry – is a key driver of this success. This is mainly due to the good economic situation of our largest customer group, the automotive industry. Worldwide automobile production increased again in 2017 – and so did the demand for fineblanked com-ponents used in motor vehicles. In addition, there is a tendency to equip more and more passenger cars with automatic transmissions. This opens up new sales opportunities for Feintool and encourages trends in the direction of CO2 re-duction, energy efficiency and lightweight construction. The increasingly smaller, lighter and therefore more complex components can be produced precisely and economically in large quantities by fineblanking.
The fineblanking press and tool business in the Fineblanking Technology segment developed positively. In 2017, the area booked the most orders received in 8 years. This gave press construction a strong start in 2018, which is gratifying since it is the driver of innovation at our company and an important pillar of our technological leadership. Currently, it accounts for a good 10 percent of Feintool sales, which is partly due to the strong growth of the System Parts segment and simultaneous market consolidation on the customer side. Against this background, we are well positioned and will continue to expand our position in the coming year with numerous new developments.
Systematic investment
We owe our success to our focused, long-term strategy, which we have been consistently implementing since 2010. We have been concentrating on fineblanking and forming in terms of technology as well as the international markets of Europe, North America and Asia since then. All our activities are aimed at steadily consolidating and expanding our position within these technologies and markets. In 2017 alone, we invested around CHF 90 million (with the inclusion of an acquisition). This amount was mainly used for expansion of the new production sites in Tianjin, China, Oelsnitz, Germany and Most in the Czech Republic. At this point, I would like to highlight our new plant in China, since it has closed an important strategic gap. This is because we also now have forming in China, thus offering this technology worldwide and yet again increasing our vertical integration.
The investments are fully in line with the Feintool strategy of producing wherever our customers are located. And with the new plants, Feintool is meeting the rising demand in these regions of the world.
Stable environment
Events that have defined public perception and the news in 2017 have had little or no impact on Feintool. This can be seen, for example, in the manipulation of exhaust gases in diesel vehicles. A shift in automobile production towards gasoline engines is hardly of any significance for Feintool, since the demand for fineblanking and forming parts in vehicles is independent of the fuel. Protectionist tendencies in the US also had no impact on Feintool, since we are not an importer, but rather a net exporter.
Our largest customer group, the automotive industry, is currently characterized by major changes – above all by the discussion on electrification. However, this development has hardly had any effect on Feintool at the moment, since classic drive concepts based purely on combustion engines are currently being installed in more than 95 per cent of all automobiles worldwide. Forecasts show that these will also account for the lion's share of production in the short and medium term. However, their share is expected to decline gradually over the next few years, mainly in favor ofhybrid drives. Since these always include an internal combustion engine with a corresponding drive train, we expect that the current demand for fineblanking and forming parts will therefore remain uninterrupted. At the same time, we are looking at new long-term developments in drive concepts and are preparing for them. New application options are opening up for fineblanking technology, and we have already been able to prepare for them with a large number of development projects – also in cooperation with customers and suppliers.
Our chassis and interior design business is also continuing to grow. Thanks to the development towards autonomous driving and increasing networking, car drivers will be able to devote themselves to activities other than steering the vehicle in the future. This will also bring about extended fields of application for fineblanking technology. Increased comfort is accompanied, for example, by a finer seat adjustment mechanism, for which Feintool supplies the necessary parts.
Knut Zimmer is the new CEO
An exciting and successful future is awaiting Feintool, and Knut Zimmer will lead us into it as CEO. This is someone from inside Feintool who is moving into the top management position and has already had great success for the Group in recent years. He joined Feintool in 2012 as part of the acquisition of Herzing + Schroth GmbH u. Co. KG (today Feintool System Parts Obertshausen GmbH). After the completion of the integration, he successfully managed the new Forming Europe area created by the acquisition, and furthermore Knut Zimmer has also been responsible for the entire European Parts business of the Feintool Group since 2017.
With him as the new CEO, we are therefore focusing on continuity. It is his task to continue the Group's growth strategy and to ensure that the new locations in 2018 achieve the same level of capacity utilization and profitability as the existing plants.
Outlook and thanks
We expect the positive development of business to continue in financial year 2018, although in a market environment characterized by political uncertainties. Overall, we expect sales of CHF 630 to 650 million and an EBIT margin of 7.5 to 8.0 percent.
We would like to thank our customers, suppliers and shareholders whose confidence in us always motivates us to put our claim of "Expanding Horizons" into action. This is made possible every day by our employees who also deserve our special thanks. With them we will have a successful 2018.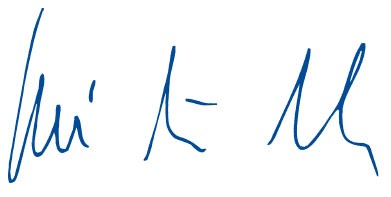 Alexander von Witzleben
Chairman of the Board of Directors